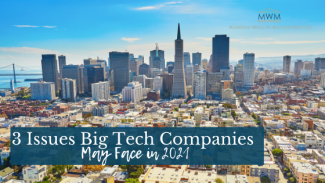 Three Issues Big Tech Companies May Face in 2021
Big Tech—particularly Google, Apple, Facebook, Amazon, Tesla, and Netflix—has enjoyed a meteoric rise in value since the start of the pandemic, adding nearly three trillion dollars to its market cap by the end of 2020.[1] But 2021 is predicted by many to be a more turbulent year.
From antitrust litigation to supply chain disruptions, Big Tech may find its 2020 performance tough to repeat. Below, we'll discuss three of the main challenges that Big Tech companies are likely to face in 2021.
Antitrust and Monopoly Litigation
The end of 2020 found Facebook defending itself in an antitrust lawsuit brought by 46 states and the federal government.[2] This lawsuit alleges that Facebook acquired some of its competitors, including WhatsApp and Instagram, to maintain dominance over the social media market.[3]2 Depending on the outcome of this litigation, Facebook could be forced to sell off these purchases or adhere to additional regulations to prevent it from unfairly eliminating the competition.
Numerous other government agencies, including the Federal Trade Commission (FTC), the Securities and Exchange Commission (SEC), and the Department of Justice are looking into the possibility of breaking up some of the biggest monopolies in the tech world.[4] From telecommunications companies joining forces (like the recent merger between Sprint and T-Mobile[5]) to other social media giants snapping up the competition (like Google and YouTube[6]), additional regulation seems all but inevitable over the coming months.
Continued Growth Challenges
Because Big Tech has enjoyed such a rapid rise, a pullback could be inevitable; it's hard to maintain sustained growth when growth has happened so quickly. Some companies are still facing supply chain issues, while the global chip shortage has caused production problems that could make it harder to get certain tech applications to market.[7] Tech companies may need to recalibrate their shareholders' expectations to comport with the mere modest advances that seem likely in the near future.
A New Pandemic: Cybersecurity
Small-scale data breaches are unfortunately somewhat common.[8] However, one recent breach that affected multiple federal agencies was unprecedented in its size, scope—and the fact that it remained undetected for nearly a year. The U.S. Treasury, Department of Homeland Security, and the State Department, among other agencies, fell victim to a nine-month-long cyber-spying scheme in late 2020.[9] Even months after this espionage was discovered, experts are not sure exactly what information was compromised or how these foreign agents were able to access confidential U.S. government computers.
With data breaches affecting millions of people each year, some experts have warned of an impending "digital pandemic."[10],[11] To maintain users' trust and avoid expensive data breaches, Big Tech must take more precautions to ensure that users' data remains safeguarded. In some cases, this can even involve using "white hat" hackers to test security measures and report any vulnerabilities for a cash reward.[12]
Important Disclosures:
The opinions voiced in this material are for general information only and are not intended to provide specific advice or recommendations for any individual. To determine which investment(s) may be appropriate for you, consult your financial professional prior to investing. All performance referenced is historical and is no guarantee of future results. All indices are unmanaged and cannot be invested into directly.
The information provided is not intended to be a substitute for specific individualized tax planning or legal advice. We suggest that you consult with a qualified tax or legal advisor.
LPL Financial Representatives offer access to Trust Services through The Private Trust Company N.A., an affiliate of LPL Financial.
---
[1] https://www.thewrap.com/big-tech-market-caps-2-7-trillion-2020/
[2] https://www.cbsnews.com/news/facebook-antitrust-lawsuit-ftc-46-states-instagram-whatsapp/
[3] https://www.forbes.com/advisor/investing/facebook-antitrust-lawsuit/
[4] https://www.coindesk.com/us-congress-plans-hearings-on-gamestop-market-pumps
[5] https://techcrunch.com/2019/11/05/fcc-approves-t-mobile-sprint-merger-despite-serious-concerns/
[6] https://www.ftc.gov/news-events/press-releases/2019/09/google-youtube-will-pay-record-170-million-alleged-violations
[7] https://www.cnn.com/2021/04/29/business/chip-shortages-smartphones-consumer-goods/index.html
[8] https://www.cnbc.com/2019/10/13/cyberattacks-cost-small-companies-200k-putting-many-out-of-business.html
[9] https://www.cnn.com/2020/12/16/politics/us-government-agencies-hack-uncertainty/index.html
[10] https://www.iii.org/fact-statistic/facts-statistics-identity-theft-and-cybercrime
[11] https://www.cnbc.com/2021/02/17/op-ed-how-to-stop-hackers-targeting-covid-19-vaccinations.html
[12] https://www.businessnewsdaily.com/10713-white-hat-hacker-career.html