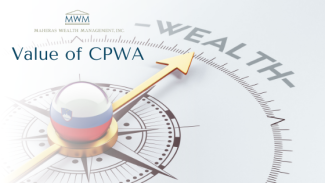 Most of us can get a driver's license to drive a car, almost anyone can get the appropriate licenses to become a financial advisor, and many advisors have now become a Certified Financial Planner (CFP®). A CFP® certificate may be the minimum standard nowadays to offer comprehensive advice beyond investments.  To continue improving my skills and knowledge in the field of financial planning, I enrolled in the Certified Private Wealth Advisor (CPWA®) Program course through The University of Chicago School of Business.
According to the Investments and Wealth Institute, the "CPWA® is an advanced professional certification for advisors who serve high net worth clients. It's designed for seasoned professionals who seek the latest, most advanced knowledge and techniques to address the sophisticated needs of clients ….. Unlike credentials that focus specifically on investing or financial planning, the CPWA program takes a holistic and multidisciplinary approach." The course covers 12 core topics such as Ethics, Behavioral Finance, Family Dynamics, Tax Planning, Portfolio Management, Risk Management and Asset Protection, Charitable Gifting and Endowments, Estate Issues and Wealth Transfer, Planning for Executives, Planning for Closely Held Business Owners and Retirement Management. The curriculum is designed to discuss the real-life examples that many successful investors have faced and offer real-life solutions to resolve those financial challenges.
Some information is new, some is more in depth, and some is more of a review. The main reason I chose to take the course is to be able to provide broader and deeper advice to my clients and prospective clients. As a CPWA® certificate, my collaboration with tax and estate planning professionals on behalf of my clients, will allow me to develop even more robust planning for their benefit that is tailored to their unique and complex situations. I look forward to completing this extensive six-month course before the end of the year.
Source: https://investmentsandwealth.org/cpwa/value-of-cpwa