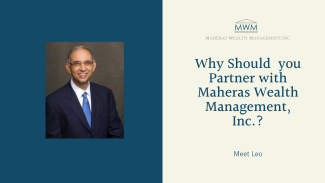 Why should you partner with Maheras Wealth Management, Inc.?
Why should you partner with Maheras Wealth Management, Inc.?
MIA ZOI are two Greek words which simply translated mean "one life", my guiding inspiration for developing a financial and investment process which allows our clients to work towards living the best life they can.
My role is to help improve my client's individual financial situation by crafting a comprehensive financial plan to find an approach to complex problems utilizing my analytical skills. I focus on advising multi-cultural executives in the technology industry that are 5 to 10 years from retirement. For those of you that I've had the pleasure of working with, you know how deeply I value the relationships I've developed with my clients. With my training in financial planning, I can advise my clients on essential topics, such as Estate Issues & Wealth Transfer, Charitable Giving & Endowments, and Tax Planning. However, Maheras Wealth Management and LPL Financial don't provide legal or tax services. Please consult your legal or tax advisor regarding your specific situation.
The reason I got into the financial services field is my motivation in helping people to avoid some of the financial pitfalls my parents experienced. They did not have the tools or the advice to properly plan for the lifestyle they dreamed.
My clients have shared the 3 most important reasons why they work with us:
First: Our Personal Approach
Initially we spend a considerable amount of time collecting their financial information to understand what matters most to each client, then develop a financial plan that evolves with time that shows where clients stand today and offers clear recommendations to make well-informed decisions.
Second: Our Extensive Capabilities
We team up with tax and estate professionals on our clients' behalf to offer comprehensive strategies to help them pursue their financial goals. In order to execute the financial plan, we develop an individualized investment strategy.
Third: We pride ourselves in building Lasting Relationships
By having ongoing communication in person, online, and at annual events like my BFGBBQ, which provides opportunities for us to meet our clients in less formal settings, which ultimately builds deeper relationships.
I want to end by inviting you to give me a call and set up a meeting. Take an active role in your financial journey and let us build a strong financial foundation together. I'm ready to help you pursue your financial goals, are you?
Disclosures:
Leo Maheras is a registered representative with, and securities and advisory services offered through LPL Financial. A registered investment advisor. Member FINRA & SIPC. The LPL Financial representative associated with this website may discuss and/or transact securities business only with residents of the following states: CA
LPL Tracking #: 1-05037522